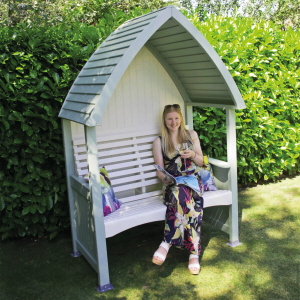 Garden Furniture
We have a selection of decorative, lightweight, metal garden furniture from Fallen Fruits, Jonart and Gardman, including tea-for-two and tea-for-four sets as well as others where tables and chairs can be purchased separately with the choice of normal or carver chairs. Many of these items will fold for easy storage during the winter.
Our range of chunky wooden furniture includes small and large benches, companion bench and tea for two. This range is particularly sturdy and ideal for people who have dexterity problems as the weight of the furniture will aid them in getting up.
Our favourite for the summer is the "wine spike" which will spike into the lawn and hold a bottle of wine and four glasses and avoid spillages on uneven surfaces – no one wants to waste their wine!
---
More departments
---