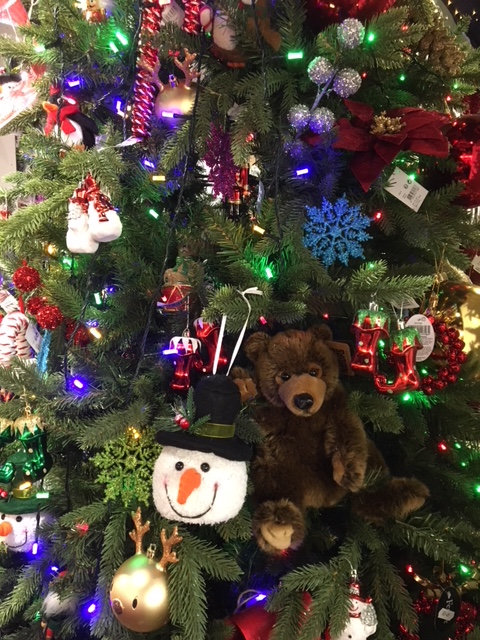 Christmas
The Journey through our Winter Wonderland for 2018…..
Santa's Grotto
Santa's grotto is open on the following dates in December 1st/2nd, 8th/9th, 15th/16th, 20th/21st/22nd/23rd December 10:30-3:30 with a break to feed his Reindeer 12:15-13:00. The cost is £4 and every child will receive a wrapped gift. There is no need to book.
Real Christmas Trees
Our gold grade specially selected low needle drop real Christmas trees are now available, we have a wonderful selection from 5ft upwards.
Enter Thaxters "Winter Wonderland" through the fabulous festive gates into "The Night Before Christmas", a truly traditional and nostalgic selection of decorations with a huge tree adorned in rich reds, golds and greens with Victorian style characters, ornate baubles and velvet flowers.
Carry on and see the spectacular display of indoor and outdoor lights, fibre optic trees, animated villages, lit canvases and laser projectors.
"Once upon a Time" is the next theme with its breath-taking display including unicorns, bunnies, and lots of other white, snowy and sparkly items – it's a little girl's dream!
Follow through to the "Enchanted Forest" where you can walk through the arch of branches with golden twinkling lights, owls, squirrels and other woodland creatures along with wooden decorations, artificial wreaths and garlands.  You will also find natural fruit decoration with wonderful Christmas scents and items to create your own decorations.
And round the next corner you will find Thaxters famous animated Father Christmas reading his book in front of the fireplace. The "Dear Santa" section is full of bright and fun decorations including comical reindeer and mice, candy canes and even flamingos, plus santa hats, animated toys and colour-your-own decorations.
If you are entertaining this Christmas, there are charming mugs, trays and coasters along with table runners, napkins, candles and table decorations.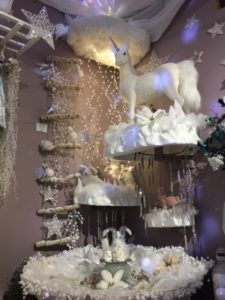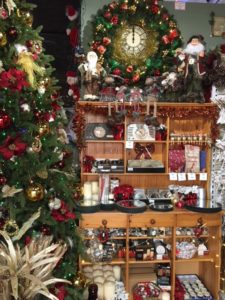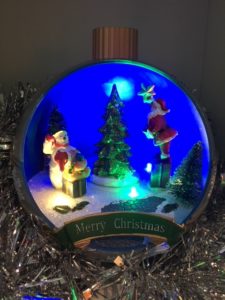 Special Offer – 18cm Animated Christmas Ball Scene – Only £17.99
From October, the garden centre gains a magical Christmas Department. Set up in themes there is something to suit every taste.
As well as simply decorations for the tree, we have ornaments, festive flowers, wreathes and garlands.  Our themes also include some great gift ideas for the home including vases, candle holders, throws and cushions.  And this year we have some beautiful table linen from Peggy Wilkins.
Our artificial trees range from small table-top to full size in a variety of styles including slim trees for those where space is limited. We also have fibre optic trees, some of which are suitable for using outside.
We have a fantastic selection of Christmas lights from basic Supabright string lights, Treebrights – giving a more dense covering for infilling your tree, cluster lights, icicle lights as well as more novelty lights. For areas where you have no electricity, our battery operated string lights are very popular – in various lengths and colours, they can be used indoors or outdoors and have a built in timer so they will come on at the same time everyday and remain alight for 6 hours.  Also for outside we have lit acrylic characters such as deer.  Our ever popular range of light-up villages, ornaments and characters change every year and the great value lit canvases of winter scenes make super gifts.
From late November our real Christmas trees will be on sale. We stock the non needle-drop Nordman Fir and traditional Norway Spruce in cut trees.  We can provide a blocking service where your tree is inserted into a timber block which will act as a stand, or we have metal stands where water can be added to prolong the life of your tree.  Your tree will be netted to make it easier for you to fit in the car to take home, or we can offer a delivery service for larger trees.
As well as cut trees we have a selection of smaller pot-grown and containerised trees. Plain or decorated fresh wreaths will also be available from early December.
---
More departments
---