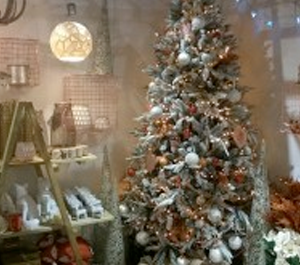 Christmas
Santa's Grotto
Santa's grotto is open every weekend in December 10:30-3:30(except Christmas eve) with a break to feed his Reindeer 12:15-13:00. The cost is £4 and every child will receive a wrapped gift. There is no need to book.
Extra dates for Santa:  Santa has managed to find his way to Dersingham for an extra 3 days – he will be joining us on Wednesday 20th, Thursday 21st and Friday 22nd December – times as above.
Real Christmas Trees
Our gold grade low needle drop real Christmas trees are on sale from 24th November, we have a wonderful selection from 5ft upwards.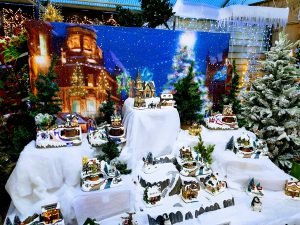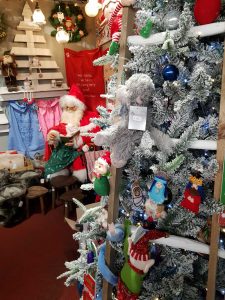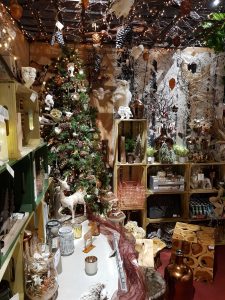 From October, the garden centre gains a magical Christmas Department. Set up in themes there is something to suit every taste.
We have three themes this year:-
"Home for Christmas" embraces tradition and nostalgia with santas, snowmen and robins in rich golds, bright reds, greens, tartans and multi-coloured lights.
A warm and cosy look is created with woodland animals, pine cones and berries in tones of brown, copper and green with vintage gold lights in the "Old Oakwood Christmas Charm" section.
Shades of blue and pink blend with white and silver, including beautiful birds, snowflakes, frosty flowers and angels, with two-tone white lights for our magical, sparkly "Christmas Dreams" display.
As well as simply decorations for the tree, we have ornaments, festive flowers, wreathes and garlands.  Our themes also include some great gift ideas for the home including vases, candle holders, throws and cushions.  And this year we have some beautiful table linen from Peggy Wilkins.
Our artificial trees range from small table-top to full size in a variety of styles including slim trees for those where space is limited. We also have fibre optic trees, some of which are suitable for using outside.
We have a fantastic selection of Christmas lights from basic Supabright string lights, Treebrights – giving a more dense covering for infilling your tree, cluster lights, icicle lights as well as more novelty lights. For areas where you have no electricity, our battery operated string lights are very popular – in various lengths and colours, they can be used indoors or outdoors and have a built in timer so they will come on at the same time everyday and remain alight for 6 hours.  Also for outside we have lit acrylic characters such as deer.  Our ever popular range of light-up villages, ornaments and characters change every year and the great value lit canvases of winter scenes make super gifts.
From late November our real Christmas trees will be on sale. We stock the non needle-drop Nordman Fir and traditional Norway Spruce in cut trees.  We can provide a blocking service where your tree is inserted into a timber block which will act as a stand, or we have metal stands where water can be added to prolong the life of your tree.  Your tree will be netted to make it easier for you to fit in the car to take home, or we can offer a delivery service for larger trees.
As well as cut trees we have a selection of smaller pot-grown and containerised trees. Plain or decorated fresh wreaths will also be available from early December.
---
More departments
---